Hello.
If you're in the Bay Area, I'm putting on an event around computer music.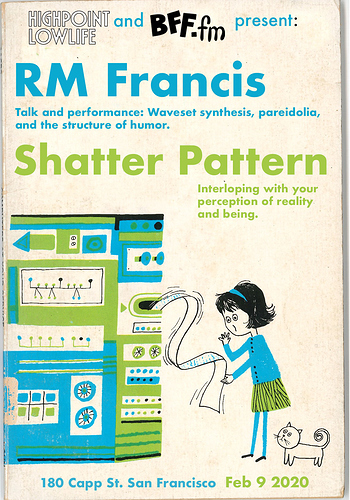 RM Francis
https://co-dependent.bandcamp.com/album/code889
RM Francis is an artist working with computer-generated sound via recording, installation, and performance. His practice exploits liminal aspects of the perceptual, social, and material networks involved in the presentation and reception of musical works in order to highlight the provisional and unstable nature of these systems. Alternative models of subjectivity figure prominently in his work via explorations of distributed authorship in the network computer music ensemble Mesh Collaborative and the ongoing project The Work of Iron, which transposes principles of Gothic architecture onto contemporary sound production. His 2017 project Hyperplastic Other, a multimedia work utilizing chocolate, video, performance, and sound, was released by nada. His current releases are CODE889, on CO-DEPENDENT, and Nth White Dot, forthcoming from Conditional. He lives in Seattle, where he is also active as a concert organizer.
RM Francis will preceed a performance, with a talk which will discuss the technical and conceptual underpinnings of his practice, covering waveset synthesis; liminal personhood and the minimum perceptual threshold for the attribution of agency; and generative semantic dysfunction in humor as a model for composition.
Shatter Pattern
Through sound, dance, costumed computation and visualization, Jules Litman-Cleper blazes spidering trails across fragile shells, divining the wells of survivable life, showing us to the bathy froth of time that predates vision. Human eyes are like eggs, born with a startle from the primordial chicken they're made to trace sharp edges. So the clarity of vision lends itself to quantification, immediacy, violence. But the chicken had to cum first, or why survive? Vibration precedes sight, desire precedes survival and the world was always more than quantifiable surface, more fun than fear, where shatter precedes pattern.
https://www.youtube.com/watch?v=uYRH21CIn60
FB event - https://www.facebook.com/events/650332262403540/
Tickets - https://bestff.kindful.com/?campaign=1050157