A sermon delivered in hardcore.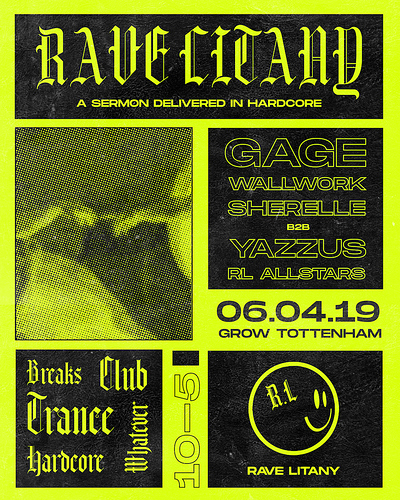 GAGE (NTS / Crazylegs)
Wallwork (Nervous Horizon)
Sherelle (Reprezent Radio / Mixmag / 6 Figure Gang)
Yazzus (Foundation FM / 6 Figure Gang)
Tales of the Underground (Shared Meanings)
JD JD (Tim & Barry)
wgwn (Insert / NTS)
DJ's have to answer the following question with their sets:
What does rave music sound like now / what will it sound like 50 years from now?
BREAKS / TRANCE / HARDCORE / JUNGLE / WHATEVER
Rave
n. any gathering of people centered around listening to and dancing to electronic music, as played by a set of live djs. Originated in 1989 in the UK as underground, often illegal gatherings in abandoned warehouses. Often characterized by the positive, psychedelic atmosphere.
Litany
n. part of a church service in which the priest says a set group of words and the people reply, also using a set group of words.