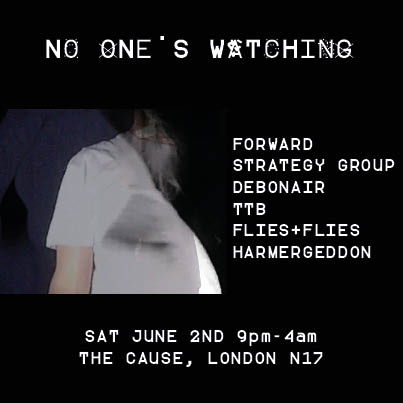 Party in the panopticon…
FUNDRAISER— all door profits will be donated to local migrant support charities, while the venue (The Cause) supports mental health charities Mind, CALM, and Help Musicians UK.
Forward Strategy Group
DEBONAIR
TTB
flies+flies (live)
Harmergeddon (live)
Installation by Jake Williams
No One's Watching is a new event series that joins up some of the threads that have made UK's underground so arresting in recent years - bringing together DJs, art and live performance, with a music policy at the intersection of decadent, mutant club music, weird electronics and experimental guitar-adjacent melodics. The evenings will feature alternative / electronic bands and live acts and installations, going into a straight-up rave with our favourite cutting-edge club DJs.
The live performances will take place under the watchful eye of an installation which explores the unlikely beauty, strange intimacy and liminal possibilities of unsecured security cameras.
Early birds sold out. 1st release including ltd £8 arrive before 10.30pm tiks - https://www.residentadvisor.net/events/1107300