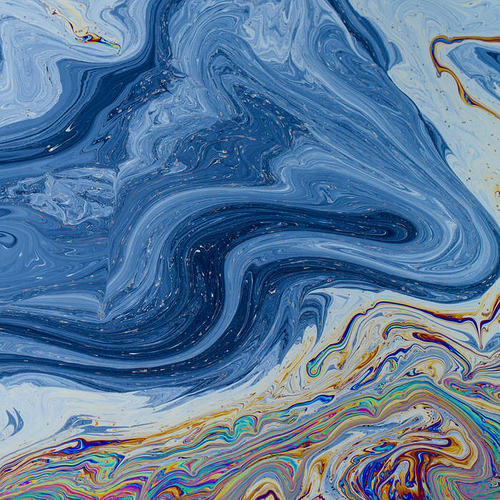 I was pretty excited when news of this release came out of nowhere a few months ago after the LesAlpx / Coorabell split. Floating Points is one of my BUY ON SIGHT artists. I've been that way since Vacuum Boogie, Shadows EP, Post Suite, and the incredible Wires. Elaenia was a wonderful LP, Kuiper I didn't feel as much, and Reflections was a great concept. Ratio was just OK for me. Crush is totally different in some ways, the beautiful parts are gorgeous, the crazy parts are unhinged and noisy.
There has been a lot of press on this LP, a New York Times piece, an extended DJ Mag interview among others. Floating Points said the chaos in the world influenced the music on here, also opening up for the xx and getting back to club tracks. I think this album will take a while to sink in, to feel out. It's quite choppy, but tracks like Sea-Watch are wonderful. I recommend the DJ Mag piece here if anyone's interested in his process, it reminds me of the extended Resident Advisor piece on his process a few years back.
Really appreciate the 24-bit/96kHZ quality on this one, will take a while to let this one sink in and see how I feel.
Write up on Bandcamp:
Sam Shepherd aka Floating Points has announced his new album Crush will be released on 18 October on Ninja Tune. Along with the announcement he has shared new track 'Last Bloom' along with accompanying video by Hamill Industries and announced details of a new live show with dates including London's Printworks, his biggest headline live show to date.

The best musical mavericks never sit still for long. They mutate and morph into new shapes, refusing to be boxed in. Floating Points has so many guises that it's not easy to pin him down. There's the composer whose 2015 debut album Elaenia was met with rave reviews – including being named Pitchfork's 'Best New Music' and Resident Advisor's 'Album of the Year' – and took him from dancefloors to festival stages worldwide. The curator whose record labels have brought soulful new sounds into the club, and, on his esteemed imprint Melodies International, reinstated old ones. The classicist, the disco guy that makes machine music, the digger always searching for untapped gems to re-release. And then there's the DJ whose liberal approach to genre saw him once drop a 20-minute instrumental by spiritual saxophonist Pharoah Sanders in Berghain.

Fresh from the release earlier this year of his compilation of lambent, analogous ambient and atmospheric music for the esteemed Late Night Tales compilation series, Floating Points' first album in four years, Crush, twists whatever you think you know about him on its head again. A tempestuous blast of electronic experimentalism whose title alludes to the pressure-cooker of the current environment we find ourselves in. As a result, Shepherd has made some of his heaviest, most propulsive tracks yet, nodding to the UK bass scene he emerged from in the late 2000s, such as the dystopian low-end bounce of previously shared striking lead single 'LesAlpx' (Pitchfork's 'Best New Track'), but there are also some of his most expressive songs on Crush: his signature melancholia is there in the album's sublime mellower moments or in the Buchla synthesizer, whose eerie modulation haunts the album.

Whereas Elaenia was a five-year process, Crush was made during an intense five-week period, inspired by the invigorating improvisation of his shows supporting The xx in 2017. He had just finished touring with his own live ensemble, culminating in a Coachella appearance, when he suddenly became a one-man band, just him and his trusty Buchla opening up for half an hour every night. He thought what he'd come out with would "be really melodic and slow- building" to suit the mood of the headliners, but what he ended up playing was "some of the most obtuse and aggressive music I've ever made, in front of 20,000 people every night," he says. "It was liberating."

His new album feels similarly instantaneous – and vital. It's the sound of the many sides of Floating Points finally fusing together. It draws from the "explosive" moments during his sets, the moments that usually occur when he throws together unexpected genres, for the very simple reason that he gets excited about wanting to "hear this record, really loud, now!" and then puts the needle on. It's "just like what happens when you're at home playing music with your friends and it's going all over the place," he says.

Today's newly announced live solo shows capture that energy too, so that the audience can see that what they're watching isn't just someone pressing play. Once again Shepherd has teamed up with Hamill Industries, the duo who brought their ground-breaking reactive laser technologies to his previous tours. Their vision is to create a constant dialogue between the music and the visuals. This time their visuals will zoom in on the natural world, where landscapes are responsive to the music and flowers or rainbow swirls of bubbles might move and morph to the kick of the bass drum. What you see on the screen behind Shepherd might "look like a cosmos of colour going on," says Shepherd, "but it's actually a tiny bubble with a macro lens on it being moved by frequencies by my Buchla," which was also the process by which the LP artwork was made." It means, he adds, "putting a lot of Fairy Liquid on our tour rider".