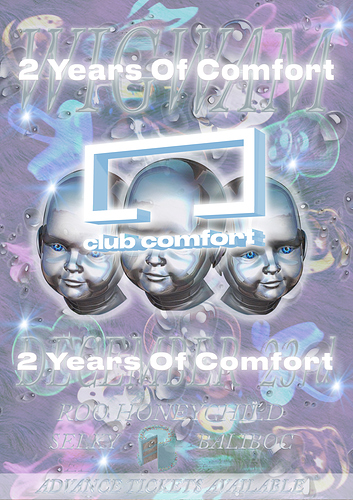 CLUB COMFORT IS 2 YEARS OLD












The little party that could (in six inch stripper heels) is turning two years old. As a monthly bash which first found its feet in grimey dive bars and sports hall function rooms, 2019 has seen some serious strides for Club Comfort. Whether it's our first international dates in London this December, the critically acclaimed Comfort Carnival mini festival, or winning the Dublin Fringe Festival Radical Spirit Award, we've had some serious moments and we're feeling achieved!
Getting back to the club and into the swing of regular monthly parties since September has felt like coming home. We're feeling inclined to really throw the ball out for our two year anniversary, so we've got some special plans ahead.





We're taking over the whole of the historic Wigwam for a suitably off the wall celebration. The dress code is a 2 year old's birthday party, ye already know how we like to do this.




BASMENT: 𝕮𝖑𝖚𝖇 𝕮𝖔𝖒𝖋𝖔𝖗𝖙
In the basement we've got the usual suspects up to the usual rave-force madness. DJ Selky has a new record on the horizon. Baliboc's got a USB full of fresh ones and Roo Honeychild has something quickly approaching an audio Deathwish.





EVERYWHERE ELSE: 𝓛𝓸𝓾𝓰𝓱 𝓒𝓸𝓶𝓯𝓸𝓻𝓽
For the middle floor and rest of the building, we wanted to do something really different. So we recruited long time family member and close collaborator Bambi aka Rory Reilly to curate a selection of performances, installations and music called 'Lough Comfort'. She seeks to explore new iterations of the long Irish tradition of the ethereal. We're beyond excited to see what she comes up with, and there will be further announcements of acts and other details to follow over the next few weeks.





ACCESSIBILITY INFO:
There is wheelchair access to the middle (ground floor) and accessible toilet facilities there. However, the basement and upper floor smoking area are not wheelchair accessible. There will be loud music, flashing lights, a smoke machine, strobe, etc. There will be chairs and benches to facilitate sitting and resting, and you can store heavy baggage etc. in the cloak room. Please feel free to contact us or the venue (Wigwam) with any accessibility related questions. If there is anything we, Club Comfort, can do to help make the experience more accessible to your individual needs we will do everything we can to make it happen- please contact us ASAP. You can reach our page via DM.