boomer parents so basically born into a massive record collection containing essentially three decades' worth of pop music – folk, rock, soul, jazz, world music, etc. plenty of staples; a few oddities, even. Mom was a folkie (Joan Baez, Joni Mitchell, Cat Stevens, John Fahey) and Dad was into it all – Blood on the Tracks and Abbey Road but also sterile smooth jazz, big-voiced divas, bossa nova. they met in the middle with MTV and the adult-contemporary hits of the day (Billy Joel, Phil Collins, Sting, Petty). oldies from the Fifties and Sixties locked on the car stereo always. tapes were huge, too, and they'd get stuff from friends and family…big-rig trucker country, French chansons, soundtracks and Broadway tunes, no telling what would make its way our hi-bias Dolby dual tape deck. my favorite records as a child were the Big Chill soundtrack with all the old soul tunes and a record by Earl Klugh that had a Ferrari on the cover (obvi). first concert was Bob Dylan.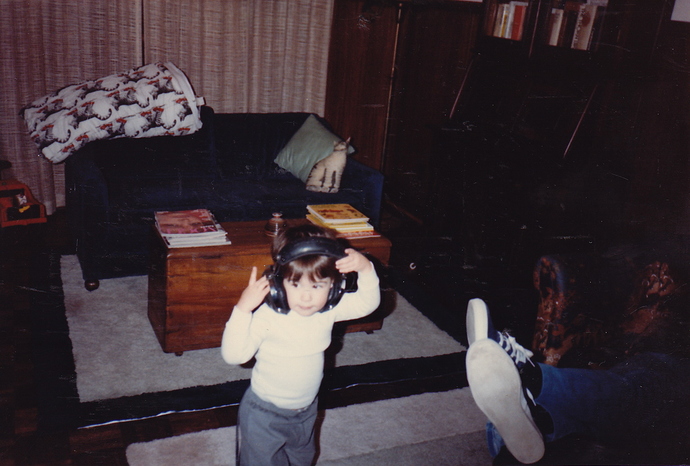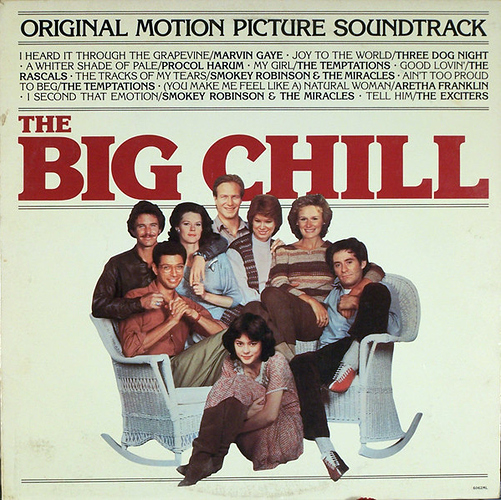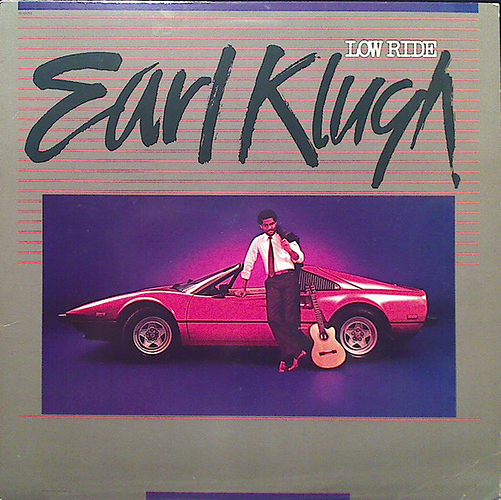 age 10 I started studying percussion with an old jazzer who used to play tympani and mallets with the local Philharmonic. first tune I learned was "Axel F" which he hand-transcribed on notation paper and gave be a dubbed tape to play along with (which, looking back, was possibly my first brush with "electronic" music). probably didn't realize it at the time but I definitely think that, by hipping me to unsung timekeepers like Bernard Purdie and Joe Morello, my instructor subconsciously taught me how to look past the standard album details and parse liner notes for producers, labels, and notable personnel.
from there, honestly, there hasn't been a day that's gone by that I haven't been fully invested in the discovery, appreciation, advocacy, and creation of music. I consider myself very lucky to have come up in the Eighties and Nineties and Naughties, just literally drowning in media. we had great radio before the big corporate buyouts – alternative and college stations played whatever and you could call the DJs if you missed the track announcement; magazines with real budgets, real coverage, real journalism, real design – Spin, AP, Raygun, Urb, XLR8R, Stress, The Source, XXL, all the British imports like The Wire or even big floppy tabloids like NME, zines GALORE; MTV aired actual videos and we copped Slash's iconic stance when we played air guitar or goofed into an imaginary fisheye lens like the Beastie Boys (not to mention the utterly massive influence of Matt Pinfield and 120 Minutes on our own burgeoning record collections); sneaking into older siblings' bedrooms to secretly dub off their Pixies or NWA discs; we had chatrooms, we had Napster (and LimeWire and Kazaa and Bearshare and SOULSEEK); we agonized over dial-up connections and failed file transfers, we made playlists on WinAmp and, in the absence of mp3 players or car CD players, dubbed cassettes off the 128kbps audio routed from the laptop headphone jack to the aux inputs on a boombox – the influence of early internet peer-to-peer file-sharing and online communities is not to be understated. spent literally I-don't-know-how-many-hours in my town's numerous record stores after school and on weekends – Rainbow Records across from my (arts magnet) high school (think Fame) was run by an old, mean-ass dude who hated kids and wrote liner notes for obscure contemporary jazz releases and reissues but the clerks were getting all the dope garage/noise/psych 7"s and were stocking LPs from all the Midwestern post-rock/math/indie heavyweights; DJ Ed's OneTribe across from my house was supplying gritty white-label imports and domestics (house/electro/d'n'b/hip-hop) to local upstarts and wannabes, Tony Aco's record shop next to the Wreck Room (where he was a resident) in the gay district off 39th had all the New York-style house/hard house (Nervous, etc.) plus discount bins of old disco, funk, and jazz fusion in the back. Tony mixed off a real old Rane rotary mixer built into the sales counter. Music Dimensions and Green Flash records had all the gutter punk 7"s, hardcore, metal, ska, goth, and psychobilly shit. also, Music D (along with Bowl66 – yes, a bowling alley, yes on Route 66) hosted the wildest, drunkest, punkest local shows (think: Wesley Willis, Bob Log III) and was where a lot of bands (including my own) got their start. CD Zone in Norman was an incredible store and so was Thing1 in Tulsa. we had a huge rave scene (EDM, Star7, 310, and countless other fly-by-night clubs) that brought in all kinds of national touring DJs (kids in our town liked it hard and fast…Richard "Humpty" Vission, mixing on four decks or something ridiculous, and DJ Irene made regular appearances). break crews were big, too, with all the Vietnamese-Americans coming out in their Type Rs to shame other crews with their insane headspins and flares…
obviously, yes to all the references to Goldie, Daft Punk, Chems, WipeoutXL, those were massive, watershed records…but also can't overstate the impact that some of the big US distros (Caroline/Astralwerks/TVT/WaxTrax/Nothing, etc.) had on early electronic listenership…being able to walk into a big box store in flyover country and cop Mo' Wax, Warp, whatever, felt incredible back then (and oddly quaint in the era of streaming).
my origin is more like a continuing evolution. I hope I never get sick of checking new shit. I really feel lucky. the hands-on way I experienced underground culture in my youth meant that you just put your entire existence into it. I'm very grateful for that and truly believe that appreciation enhances the way I listen to and create music to this day.